We design food that makes your body smile.
Using fresh, locally sourced products from our Food Forest and other local purveyors, we create an array of foods that are typically available at La Gavilana. We bake fresh breads and cookies, bottle El Millón Salsa Picante and Gavilana Bitters, and take orders on an as-needed basis for visitors and overnight guests to the area.
While we are not exactly a restaurant, we serve meals as available based on what the day's harvest includes. We require reservations in advance and can take orders.
Gavilana Bitters tinctures and hand-bottled hot sauces are just a few of the homemade products we offer at our cafe.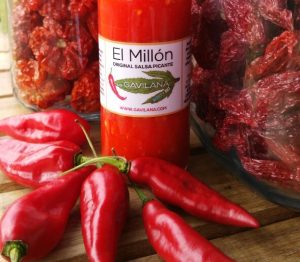 We produce food and medicine that is high in quality and nutrition utilizing resources from our "food forest". Locally harvested…locally produced fresh. We believe creating food should be done with love and passion, and the smiles of satisfaction on our customers faces makes all the effort worth it. Come try our cuisine.
Life is art, movement, and expression. Inspired by the local landscape, our resident artist and part owner, Hannah Maxwell, loves creating art on her spare time to put on display at our cafe. Come check out and fall in love with a wide variety selection of paintings and artwork, and maybe even take home a piece of art and memory.
Why Gavilana?
Neurolaena lobata
Gavilana is one of the many available resources naturally found in the areas of El Castillo & El Millón. This particular resource comes to us in the form of a remarkably resilient, medicinal and bitter plant that is often growing in disturbed areas along the roads, old pastures and the like.
Gavilana's powerful compounds have magically deterring effects on a wide range of harmful organisms generically known as parasites and pathogens. Our fascination with it's magic and it's resilience is the foundation of using this amazing natural resource in products for our patrons.